Liam Neeson and his real-life son Micheál Richardson are complicit in the failure of James D'Arcy's saccharine debut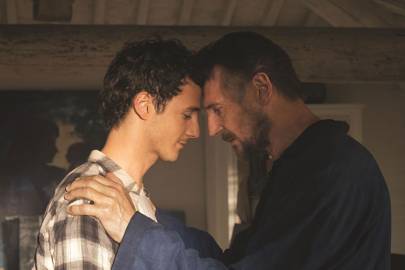 There's one good moment in this otherwise abject film about a father and son who go to a Tuscan villa to repair their deteriorating relationship. It's when Liam Neeson, who plays the widowed father, puts on some black-rimmed specs that make him look uncannily like Edward Snowden. Ha! Who would have thought it? Neeson and Snowden, peas in a pod. Ha!
The rest of the film is sadly for the cutting room floor. Neeson is Robert, a skinny-jeaned artist who used to be a hotshot but has slid into worklessness and half-hearted womanising, following the death of his wife in a car accident. His son Jack, played by Neeson's real-life son Micheál Richardson, is on the brink of an upper-crust London divorce. Jack works at a gallery owned by his ex's family, only they want to sell – presumably to eject Jack from their lives as he's refusing to sign the divorce papers, manipulative man-bun that he is. In order to free up some cash, Jack persuades his father to flog the family home in Tuscany. When they arrive to clinch the deal, they discover the villa is a wreck: dusty, racooned, with doors hanging expressively off their hinges. Robert and Jack get an estate agent in – played with quenching acid by Lindsay Duncan – but she warns that a sale won't happen until the house is spruced up.
There's not much point describing the plot any further because frankly you know it already: renovations happen at warp speed and Jack falls for a hot local restaurateur, Natalia, who has a rambunctious family and loves pasta but is reassuringly skinny. Robert, meanwhile, starts painting again and edges towards a romance with the acerbic estate agent, whose own sob story is whipped out in a lull to twang at the heartstrings. As the story idles along, the Tuscan landscape sweeps and seduces, cypress trees never knowingly out of shot.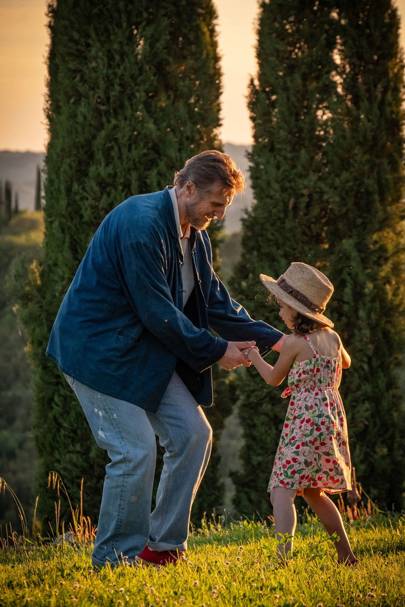 LIAM NEESON AS ROBERT IN MADE IN ITALY
There's so much that's wrong here it's hard to know where to begin. Much blame is to be heaped on the doorstep of the two leads: Neeson doesn't convince as he did in Love Actually as a grief-gripped parent, and his son is even worse; unfortunately Micheál Richardson can't act, however crisp his English accent. A real-life tragedy underpins this film – in 2009, Neeson's wife and Richardson's mother, the radiant Natasha Richardson of Parent Trap acclaim, died in a skiing accident. The parallels with this film are clear and distressing, but neither Neeson nor Richardson manage to fill their characters with a sense of believable loss or personality.
Worse still, the screenplay by James D'Arcy is an unhappy Santa's sack of clichés and missed opportunities. In one scene Jack and his father summon Natalia over for dinner. Neither men can cook – it seems we're meant to find this endearing, but it's really not – so they serve her pasta covered in sauce bought from a local shop. It transpires that she made the sauce herself. Everyone laughs, but really the sequence is dead on arrival: aborted by unoriginal thinking, flat jokes, shoddy acting and a retro attitude about what female characters are for.
Even the Italian tundra, which might have rescued this film, lets the side down. The villa is pretty enough but there's an over-saturated unreality to the countryside; it seems plasticky and computer-generated. The Italians that pad out the cast list are scarcely more believable – 3D print-outs of the moustache-twizzling, spaghetti-sucking Marios that have dominated Italian food advertising in Britain for decades. There is one considerable upside: if this is a Dolmio ad writ large, it's one that lasts a mere 90 minutes.

ONE STAR
Made in Italy is available to watch on Amazon Prime from 26 March